An unusually hectic work-schedule has been keeping me hopping lately. I returned this weekend from a great two-week trip to the UK in which I visited with 5 testing teams using our Hexawise tool to design test cases for applications being used in two banks, a consulting and systems integration firm, a grocery store chain, and a telecoms company.
Every product manager worth his or her salt will tell you it is a good idea to go meet with customers, listen to them, and watch them as they use your application. Even though everyone I know agrees with this, I find it difficult to make happen as regularly as I would like to. This trip provided me with a reminder of how valuable in-depth customer interactions can be. The two weeks of on-site visits with testing teams proved to be great way to: (a) reconnect with customers, (b) get actionable input about what users like / don't like about our tool, (c) identify new ways we can continue to refine our tool, and even (d) understand a couple unexpected ways teams are using it.
Bret Petticord's tweets on "What is Agile?" / "not Agile?" prompted me to write this quick post. I like them a lot.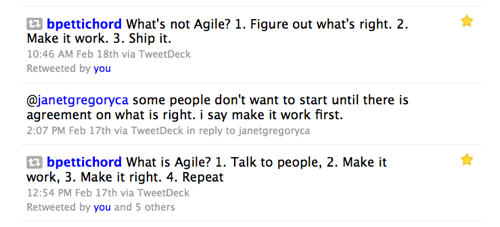 When we first created our Hexawise tool, we followed the 4 steps Bret lays out in his description of "What is Agile?" My experience in the UK over the last two weeks was the start of one of many "Repeat" cycles.
I admire people who can succinctly summarize wisdom into bite-sized quips like Bret achieved with his two tweets. Another guy who excels at creating sound-bites is James Carville. Love him or hate him, he has that skill in spades. When I watched the movie "War Room," I felt like I was watching the "master of the sound-bite" in his element. Me? I'm more of a rambling, meandering, verbose communicator. I've just taken 332 words and a screen shot with Bret's tweets when all I set out to do in starting to write this post was to share Bret's 32 words with you.